Hiking With Dogs: 7 Safety Tips and 10 Dog-Friendly Trails
Summertime is the perfect time to get outdoors for enjoyment and exercise. Hiking with your dog is a great way to bond with your pet. But, there are some safety precautions you'll want to take before you venture into the wild.
Before you take your dog on a hike, it's important to know how to keep you and your dog safe. Plus, do your research to find the right trailhead to visit with your canine companion.
7 safety tips for hiking with dogs
Hiking with your dog can be a fun experience for both you and your pup. But, making sure you and your dog are safe during the hike is most important.
Here are 7 important safety tips to consider when hiking with dogs.
1. Protect your dog from pests and diseases.
Dogs who spend a lot of time outdoors are vulnerable to fleas and ticks — especially dogs who hike near foliage. The best way to protect your dog from pests is through flea & tick preventatives.
You can also protect your dog from disease-carrying mosquitoes with a heartworm preventative. Warm states have a high population of mosquitoes year-round.
But, mosquitoes can be found everywhere in the U.S. during the summer months. So, it's important to keep your dog protected.
Finally, before exploring dog-friendly trails and national parks, make sure your dog is up-to-date on vaccinations. Dogs on public, dog-friendly trails should have vaccines for the following diseases:
Distemper
Parvovirus
Rabies
Leptospirosis
Lyme disease
These diseases are especially present in wildlife and insect areas. Protect your pet with vaccines to keep them healthy on the trail and beyond.
2. Pack your dog's essentials.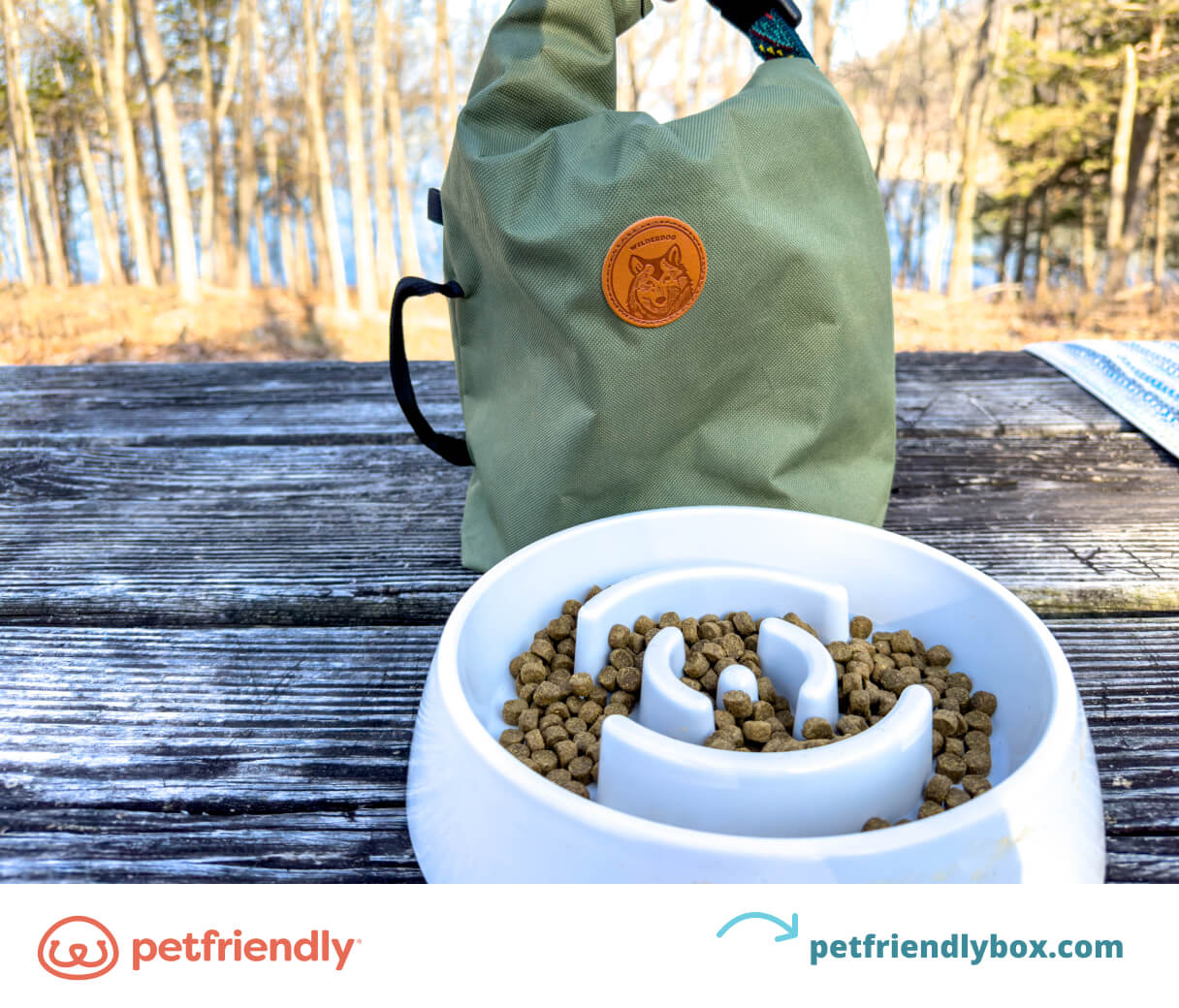 Never start a hike unprepared for an emergency. Dog owners should always bring a day's worth of food and plenty of water when hiking with dogs.
There are important items dog owners should have for hiking. Common supplies include:
Leash
Harness
Rope
Identification tag or microchip
Collapsible bowls
Most state parks and other trails require a leash for your dog, even if they are well-behaved. So, be sure you have a leash with you before you start a hike with your dog.
If you are hiking around water and plan to swim, consider bringing a life jacket for your dog. A first-aid kit with essential medicines, sunscreen, and bandages is essential for a dog owner hiking with dogs. You never know when you might need them.
Some other items you wouldn't think your dog would need for a hike, but may benefit from, include:
Water bladders: Water bladders strap around your dog's body as a harness and provide extra water to replenish them. Plus, you won't have to carry an extra water bottle or bladder in your backpack.
Dog boots: During the summer months, paved roads and other surfaces are hot. Protect your dog's paws with dog boots while walking on hot surfaces.
Travel mats: If you plan to spend the night at a park to camp, a travel mat provides your dog with a soft place to sleep. These mats deflate and roll up to fit in your backpack.
GPS collars: A collar with a GPS system works to keep track of your dog while off-leash. This item is great for dogs that wander in off-leash areas.
3. Watch the weather.
Before you grab a leash and begin your hike, pay attention to the weather forecast for the day. It may be a cool, breezy morning, but the afternoon heat can creep up on you. So, take note of the temperatures you and your dog will be hiking in.
On especially warm days, it's important to keep your dog cool in the heat. Find cool, shaded areas for your dog to rest and allow your dog to drink water frequently.
Dry, summer days are more likely for forest fires. Know where the fire roads are, and read the informational signage at the trailhead before hiking.
Finally, remember to never hike during a thunderstorm or in severe weather. If the forecast looks dangerous, reschedule your adventure for a different day.
4. Avoid tall grass and flowers.
While walking along the trail, watch out for poisonous plants that could harm your dog. Common toxic plants found on hikes include:
Angelica trees
Rhododendrons
Buttercups
Coffee trees
Garlic
Chrysanthemums
Skunk cabbage
In wilderness areas and trails with tall grass, try to avoid walking through tall brush. Ticks thrive in thick, tall brush and will likely climb onto you or your dog if they get the chance.
Before hitting the trail, pet parents should know the most common types of ticks on dogs. You can find brown dog ticks throughout the U.S., whereas American dog ticks stay east of the Rocky Mountains.
If your dog does happen to have a tick after hiking, don't fret. Remove the tick with tweezers or a tick removal tool. After removal, clean the bite area with antiseptic soap.
5. Consider your dog's overall health.
If you bring your dog on a trail, make sure they are healthy and able to complete it successfully. Some dogs with pre-existing conditions like arthritis, heart disease, and diabetes may not be good hikers.
Taking dogs for daily walks can get them in shape for a hike — especially before attempting a moderate or difficult trail with lots of hills.
While exploring nature, your dog will come in contact with tons of plants and airborne substances. Many dogs suffer from seasonal and environmental dog allergies from:
Plants
Pollen
Trees
Grass
If an allergic dog comes in contact with a trigger, they may get an upper respiratory infection or skin infection. If you know your pet is allergic to an environmental trigger, you can treat their symptoms before hiking with over-the-counter medicines.
Visit your vet for allergy testing to learn if your dog has allergies to any airborne substances or plants.
6. Mind your manners.
Every trail's rules and guidelines are different. Before taking your dog on a trail, be sure that the park and trail are pet-friendly. Many National Parks welcome dogs but require leashes in most areas.
Trails and parking lots can get busy as the day goes on. Always be sure you use a leash when in the parking lot of popular trails.
Be mindful of other dogs and hikers on the trail. It may be hard to believe, but not all people are dog people. Use a leash, provide plenty of space on the trail for other dogs and hikers to pass, and only let your dog off-leash in designated areas.
Your dog's waste can cause problems for local wildlife and other humans on the trail. Leave no trace of your dog's whereabouts by bagging your pet's waste and disposing of it in designated areas.
A hike with your dog can be a great opportunity to train. Bring a small amount of treats with you to keep your dog focused and practice obedience.
7. Use your senses.
While out in the wild, it's important to be observant with sight, sound, and hearing. Some hiking trails are home to other animals and wildlife.
If your dog picks up the scent or sight of an animal, avoid the area. Dogs on trails shouldn't disturb or approach wildlife for their safety — and yours. Keeping your dog on a leash will keep them away from potential dangers.
Remember, you can still take time to enjoy your surroundings while hiking. Take in nature and enjoy the experience with your pup.
---
10 dog-friendly hiking trails for dog owners to try this summer
Now that you know how to keep you and your pet safe while hiking this summer, here are 10 dog-friendly parks for pet parents to visit. Plus, popular dog-friendly trails you and your dog will love.
1. Acadia National Park (ME)
Acadia National Park has over 158 miles of pet-friendly hiking trails. And, it's known as one of the most dog-friendly national parks in the United States. Ocean Path Trail is the most popular trail in the park and is less than five miles long.
Walk through old-growth forests and climb hills to check out Acadia's famous jagged pink granite formations on the north side of the trail with your dog.
2. Arapaho National Forest (CO)
Silver Plume, Colorado is home to Herman Gulch Trail, a 6.4-mile, dog-friendly trail in Arapaho National Forest. Leashes are a must on this heavily-visited trail.
Dogs are welcome to take a dip off-leash in Herman Lake to cool off. With your canine companion, this hike will take about five hours to complete.
3. Chattahoochee National Forest (GA)
Located near Ellijay, Georgia, the Bear Creek Trail is one of the most popular dog-friendly trails in Georgia. Enjoy this six-mile trail filled with incredible views, water features, and plant life.
Take your dog for a swim in the creek along the trail and walk to visit the Gennett Poplar Tree, the second-largest living tree in Georgia.
4. Golden Gate National Recreation Area (CA)
Lands End Trail is a popular coastal trail in San Francisco, CA. This trail requires leashes — but, there is an off-leash beach along this bay area trail.
Walk the trail to overlook the Pacific Ocean and catch a glimpse of the Golden Gate Bridge on this 3.4-mile, moderate loop trail.
5. Natural Bridges State Park (CA)
Located in Santa Cruz, California, the Natural Bridges Park features a 3-mile walking and biking coastal trail. West Cliff Drive is the most popular trail.
The trail starts at the parking area of Santa Cruz Municipal Wharf and ends at Natural Bridges State Beach. Enjoy views of the Pacific Ocean coastline, a lighthouse, and cliffs.
6. Platte River State Park (NE)
Located in Louisville, Nebraska, Platte River Park is a completely dog-friendly area. The main hiking trail, Park Trail Loop, is a great hike under seven miles in length.
This hike is a moderately-difficult hike, as it features steep hills and inclines along the route. Enjoy the view of the river and splash around with your dogs at the waterfall.
7. Blue Oak Trail (CA)
In Redwood City, California, the Pulgas Ridge Open Space Preserve is home to a few dog-friendly trails for leashed dogs and their owners.
The Blue Oak Trail is a popular hiking trail in the park. This quiet, 3.3-mile loop features sweeping views of the valley, rolling hills, and plenty of shaded areas to cool off. On a clear day, hikers can see the skylines of San Jose and San Francisco.
8. Rainbow Springs State Park (FL)
Located in Dunnellon, Florida, Rainbow Springs Park has over 14 miles of dog-friendly trails. The Sandhills Trail is a popular, dog-friendly, two-mile trail.
Hike around a lake, swamps, and man-made waterfalls with your pup. But, stay dry — dogs are not allowed to swim in the lake or water features in the park.
9. Runyon Canyon Park (CA)
Located in the Santa Monica Mountains, Runyon Canyon is a 160-acre, dog-friendly park. Runyon Canyon Park Trail Loop is a moderate, 3.3-mile trail with views of the Hollywood Hills, Inspiration Point, and Clouds Rest.
Let your dog wander in the 90-acre, designated off-leash area by the parking lot. There are water stations at the trailhead and in the picnic areas, but make sure to bring plenty of fluids to keep you and your pup hydrated.
10. Zilker Park (TX)
Barton Creek Greenbelt Trail in Austin, Texas is a moderate hike for dog parents and their dogs. This hike is under eight miles long and takes about three hours to complete.
Waterfalls, a lake, and swimming holes along the trail provide a place for your pup to cool down. Our tip: visit this trail in the early morning to beat the Texas heat!
---
It's no secret that dogs make great hiking companions. Be confident bringing your pup along for a hiking trip with the right tools and safety tips. Plus, you can enjoy nature's sights, sounds, and smells while protecting your pet from potential dangers.