Vitamin C for Dogs: Can Dogs Have Vitamin C
As humans, we know that we need to eat a balanced diet that nourishes our bodies with the right nutrients.
A combination of certain vitamins and minerals makes a difference in staying healthy. And the same holds true for dogs and cats.
There are lots of dog vitamins and minerals that can help you give your dog a long healthy life. One vital nutrient is vitamin C.
In this article we'll cover:
What vitamin C is and why it matters
Why it's good for dogs
The right amount of vitamin C you should be giving your dog
Where you can find vitamin C for dogs
What is vitamin C (ascorbic acid)
Vitamin C — also known as ascorbic acid — is an essential vitamin that helps boost your dog's immune system and keep their bones strong. This vitamin is water-soluble which means that the nutrients distribute to your dog's body tissues.
Forms of vitamin C for dogs
There are a few forms of vitamin C found in supplements for dogs. The most common are mineral ascorbates, also known as mineral salts of ascorbic acid.
To help buffer the acidity of pure vitamin C, these forms are often combined with other nutrients. This non-acidic combination makes them more easily absorbed and gentle on your dog's stomach.
Calcium ascorbate
One form of vitamin C for dogs is calcium ascorbate. Calcium ascorbate has about 80-90% vitamin C and 10% calcium. This ratio makes this supplement a great alternative for sensitive stomachs.
Sodium ascorbate
The other most common form of vitamin C is sodium ascorbate. Like calcium ascorbate, sodium ascorbate contains a low dose of sodium (111 mg) per 1,000 mg.
Other forms of vitamin C include:
Magnesium ascorbate
Zinc ascorbate
Molybdenum ascorbate
Chromium ascorbate
Manganese ascorbate
Ester C calcium ascorbate
---
Benefits of vitamin C for dogs
Vitamin C is a powerful antioxidant with several health benefits for your dog. If your pup has hip dysplasia or suffers from an autoimmune disease, your dog may need vitamin C supplementation.
Boost your dog's immune system
Vitamin C works by searching throughout your dog's body to collect and discard free radicals. Free radicals can cause illness, diseases, and progressive aging. A daily dose of vitamin C can help improve their immune system and prolong their life.
Develop and repair their body tissues
Vitamin C helps create a vital protein that helps build body tissues. This is great for growing puppies and healing wounds in older dogs.
Fortified teeth, bones, and joints
Vitamin C is great for improving iron absorption which your dogs need for strong teeth and bones. Some dog breeds have degenerative joint issues and may need to supplement their vitamin C dosage.
---
Is vitamin C good for dogs
Like other nutrients you might wonder, "is vitamin C bad for dogs?" No! Vitamin C is a vital antioxidant that dogs and cats need.
The good news is that dogs can make their own vitamin C. But, dogs who are sick or stressed may need some extra help in generating enough to stay healthy.
Even though this vitamin is naturally occurring, it's important to ensure your dog's diet has the right amount of vitamin C.
While vitamin C deficiencies are rare in dogs and cats, knowing the symptoms can help you identify issues earlier. One extreme issue of vitamin C deficiency in humans is scurvy — which can cause wounds to heal more slowly.
Some side effects of a vitamin C deficiency in dogs include:
Bloody gums
Bad breath
Teeth loss
Lethargy
Limping
Skin spots
---
What is the right vitamin C dosage for dogs
If you provide your dog with quality pet food they may not need extra vitamin C. But, recent studies have found that dogs who are sick or stressed may have depleted levels of vitamin C needed to stay healthy. Situations that may cause extra stress for your dog include:
Gestating or lactating
Growing from puppies to adult dogs
Hunting, herding, running
Getting vaccinated
Injuries, tail-docking, or ear cropping
Illness or disease
Relocating or moving furniture
Intense training
Storms, fireworks, loud noises
Veterinarians can actually determine if they have a deficiency in your dog's blood through a simple blood test. If your dog has a vitamin C deficiency or suffers from regular mental or physical stress, then a daily dose added to your dog's diet might be helpful.
But, can dogs take vitamin C? In short, yes — dogs can greatly benefit from vitamin C supplementation if needed. Since dogs already naturally produce vitamin C, they don't need as much vitamin C as a human does.
Start with 18 mg of vitamin C per pound of your dog's body weight and distribute the dose throughout the day paired with food. Too much vitamin C can cause diarrhea, bladder stones, urinary tract infections, and other gastrointestinal problems.
So how can you add vitamin C to your dog's diet? There are lots of naturally occurring sources for dogs as well as vitamin supplements.
10 foods with vitamin C for dogs
Most dog food contains a sufficient source of vitamin C for dogs. However, if you're looking for other natural foods for a more holistic approach to supplementing try these foods.
Each is a great source of vitamin c for dogs and are tasty treats your pets will love:
Carrots
Kale
Pumpkin
Sweet potatoes
Blueberries
Strawberries
Broccoli
Bell peppers
Fish
Yogurt
VET TIP
Be sure to consult with your veterinarian to ensure these foods are a good addition to your pet's diet.
Types of vitamin C supplements
If you're unsure about what foods are best for your pet you might try a vitamin C supplement instead.
Vitamin C supplements come in a variety of shapes and sizes. Vitamin C comes in powders, soft chews, and other pills or capsules. Most types make it easy to administer to your dog.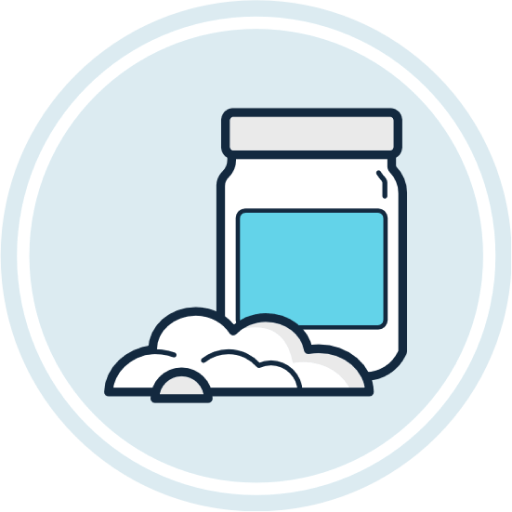 Powder
Some vitamin C supplements, like sodium ascorbate and Ester-C, come in a powder that you can mix into your dog's food. This can make it difficult to feed your pet the right dosage. However, powders might be a good choice if your dog has a difficult time swallowing pills.
Pills
Similar to human vitamins, there are also pills, tablets, and capsules that you can use to give your dog a boost of vitamin C. Pills ensure that you are always giving your dog the right dose every time.
Soft chews
Another related form of vitamin C supplement is soft chews. Similar to small training treats, soft chews are great to give the right dose every time.
As you begin to shop around for a supplement for your dog, consider these factors:
Active ingredients
Where they're made
Health benefits
Type or form of vitamin c
Flavor and taste
VET TIP
Consider a vet-quality multivitamin to ensure your dogs are getting the right vitamins and minerals to stay healthy.
PetFriendly's Daily Supplement for Dogs is a smoked chicken-flavored soft chew that covers bones and joints, gut health and digestion, skin and coat, and immunity.
Why vitamin C is a key part of your dog's nutrition
The antioxidant properties of this vitamin can decrease the chance of disease and support your dog's bones and joints. No matter what form of vitamin C you choose, the benefits of vitamin C could greatly impact the health of your dog.